Go to The American Night Watch home page.
---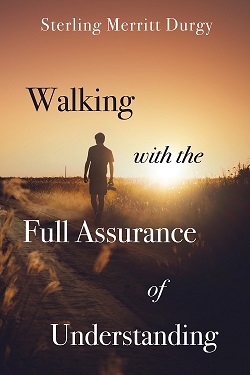 &nbsp &nbsp &nbsp A New Resource for Wesleyans!
Walking with the Full Assurance of Understanding has been written to provide Christians who are serious about their faith what Paul called: "the wealth that comes from the full assurance of understanding." In its pages readers will find the central truths, logic, and promise of Christianity necessary for a confident, stable, and fruitful walk with God.
No one knew better than John Wesley that it is one thing to know Scripture, quite another to understand it. Even as a missionary to Georgia, well-schooled in the faith by a clergyman father, a devout mother, and his studies at Oxford, Wesley remained unaware of the full meaning of Scripture. It was understanding that unlocked the power of God's work in his life.
Given the multitude of negative influences both from secular culture and within the Christian community, there has never been a greater need to avoid the false teachings of philosophy, popular but mistaken beliefs, and poor assumptions. The information and insights presented here will enable twenty-first century Christians to avoid being "carried about by every wind of doctrine" by understanding the treasure they have in God, Jesus Christ, and the Scriptures.
Especially helpful for Christian workers, students, and lay persons who are serious about knowing their faith.
(250 pages plus index from Wipf and Stock Publishers, October 2019)
Go to ordering information and discount coupon

&nbsp &nbspWatch book trailer video on GodTube or on YouTube
---
&nbsp &nbsp Benefits of Walking with the Full Assurance of Understanding:
Informative: presents insights into the faith, including those not commonly found in other works of this type

Practical: provides what Christians need to know in their daily walk with God

Comprehensive: addresses all major Christian doctrines

Wesleyan Methodist: consistent with the teachings of John and Charles Wesley

Useful as a study aid: contains many Scripture references, an extensive index, recommended reading for further study, and transliterated Greek and Hebrew where useful to understand the original text
---
&nbsp &nbsp About the author:
Sterling Merritt Durgy is an ordained elder in the Association of Independent Methodists. He has served in pastoral and literature ministries. He earned a BA (history) from the University of Connecticut, an MDiv from Asbury Theological Seminary, an MS (computer and information science) from the University of New Haven, and a PhD (religious studies) from Trinity Theological Seminary, Newburgh, Indiana. He and his wife, Dorothy, have two children and three grandchildren.
---
&nbsp &nbsp How to order:
Walking with the Full Assurance of Understanding
Paperback ISBN: 978-1-5326-9377-9
Hardcover ISBN: 978-1-5326-9378-6
EBook ISBN: 978-1-5326-9379-3
Use the coupon code SAVEME40 for 40% off retail at: Wipf and Stock Publishers
(Note: This coupon code is only recognized when ordering direct from Wipf and Stock Publishers.)
Also available from online booksellers Cokesbury, Barnes and Noble, ChristianBook.com, and Amazon, or through your local bookstore.
---
Return to top of page.
Go to The American Night Watch home page.
---
Click here for Sterling Durgy's e-mail address.
---
"The American Night Watch" is a trademark of the Christian ministry of Sterling M. Durgy.
Scriptures taken from the New American Standard Bible, Copyright © 1960, 1962, 1963, 1968, 1971, 1972, 1973, 1975, 1977 by the Lockman Foundation. Used by permission.
Copyright 2019 Sterling M. Durgy. All Rights Reserved.

Permission is granted to reprint this page or any portion as long as all copyrights are included, this statement is included, the text is not altered in any way, and the text or reprint is not sold to the recipients.
This page was last updated February 1, 2020.